Travel Information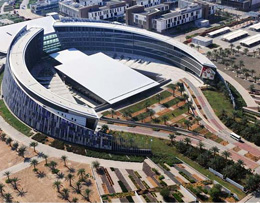 Since being established in 1976, the UAE University (UAEU) has expanded from an original 4 colleges to the current 9 faculties. As of 2011, the UAEU has over 12,000 students, primarily based in Al Ain in the emirate of Abu Dhabi in UAE. The University has over 650 faculty members, offering bachelor degrees, postgraduate courses, Phd programs and Continuing Education Programs for the community at large.
UAEU boasts modern architecture, zones for specialized research centres, cutting edge IT network infrastructure and 21st century spaces for learning. For more information about UAEU, please click here.
Travel Arrangement
Please visit http://desertgate.ae/iceg/bookingpage.php to book your accommodation, airport transfer and visa requirements.
A shuttle service will be available to registered delegates to and from the Conference venue and the above hotels.
VISA Conditions
All Rates Subject to Change without Prior Notice
Nationality


The below nationalities do not need pre-arranged Visa. Their visa can be obtained at the airport and its valid for 30 days (Single Entry)
Gcc Nationals:
(Gulf cooperation council member countries) Bahrain, Kuwait, Oman, Qatar and Saudi Arabia
Western europe:
United Kingdom, France, Italy, Germany, Holland, Belgium, Luxemburg, Switzerland, Austria, Sweden, Norway, Denmark, Portugal, Ireland, Greece, Finland, Spain, Monaco, Vatican City, Iceland, Andorra, San Mario, Liechtenstein, Poland, Slovenia, Slovakia, Czech Republic, Lithuania, Hungary, Latvia, Estonia, Malta, Cyprus, Croatia, Romania and Bulgaria.
America:
USA and Canada
Far East:
Japan, Brunei, Singapore, Malaysia and Hong Kong Australia and New Zealand
All Other Nationalities Not Mentioned above visa application is requested prior to arrival.
Visa Validity is for 30 Days from date of entry (Single Entry)
| | | |
| --- | --- | --- |
| Visa Type | Validity | Cost Per Visa |
| Tourist Visa (Single entry) | 30 Days not extendable | 100.00 $ |
VISA CHILD POLICY:


If a child is registered in parents' passport, it must be clearly mentioned in the visa application.
If a child is a national that requires a tourist visa and is registered in parents' passport NO FEES will be applied.
If a child holds own passport, visa charges will be applied as per adult rate. Note: Temporary passport & travel documents will not get visa.
Note: Temporary passport & travel documents will not get visa.
TERMS & CONDITIONS:


The Immigration Department is closed on Public Holidays, Fridays & Saturdays
The passport must be valid for a period of 6 months from the date of arrival in the UAE
Inaccurate details will result in processing delays, inconvenience to the clients on arrival, and additional charges levied by the authorities
Following documents are needed when requesting visa:


Scanned passport copy (color) of applicant
Visa is valid for one entry only
It is up to the immigration to accept or reject the visa application, fees are non-refundable.