UN-SPIDER bridging generators of data to end-users of disaster management information; one step in the implementation of the Sendai Framework for Disaster Risk Reduction 2015-2030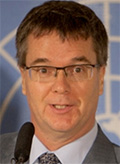 Luc St-Pierre
Senior Programme Officer, United Nations Office for Outer Space Affairs (UNOOSA)
and
Coordinator of the United Nations Platform for Space-based Information for Disaster Management and Emergency Response (UN-SPIDER)
Vienna International Centre, Austria
ABSTRACT
One of the components of the 2013 Agenda for Sustainable Development is the reduction of the vulnerability of populations and infrastructures to natural hazards. The Sendai Framework for Disaster Risk Reduction adopted in Sendai, Japan, in March 2015 will be serving as a policy framework at the global, regional and national levels, and will define how regional and international organizations should work together to support the efforts of nations. Earth observation supports informed decision-making and is helping us find ways to reduce disaster risks, identify different alternatives to plan our adaptation to climate change, prepare better to manage those unavoidable losses and damages triggered by disasters, and contribute to monitor how efforts are leading to sustainable development. Such cooperation should lead to improved technical support, capacity-building and technology transfer. UNOOSA and its UN-SPIDER Programme create platforms facilitating dialogue between governments and the United Nations system to review challenges and opportunities in mainstreaming space technology in key areas under the post-2015 development framework, and to look into common perspectives for increasing the use of Earth observations for the attainment of global development goals. The approach of UN-SPIDER to precisely assess the national capabilities in discovering, accessing and using Earth observation applications and data for disaster risk reduction, emergency response and sustainable development before accompanying authorities in implementing their national plans in those areas has brought some clear success that provide models for replication. Working first with national authorities responsible for disaster management, a regional action is later possible where neighbouring countries can develop coordination plans for trans-boundary causes or effects. This paper will argue that this approach can facilitate the implementation of the Sendai Framework.
Keywords: United Nations, disaster risk, institutional strengthening, international coordination, end-user requirements, Sendai Framework
---
BIO
Luc St-Pierre (M.Sc. Geography, University of Sherbrooke, Canada and M.Sc. Environmental Economics, Wye Imperial College, University of London) is a Geographer born in Québec, Canada. He worked at developing geographic information systems for the management of the environment and natural resources in Africa, Asia and Latin America in the 1990's before joining the United Nations in 2000. He first helped developed datasets and GISs for the UN Environment Programme (UNEP) in its work to protect marine biodiversity in the Caribbean Sea and control marine pollution. Between 2005 and 2012 he strengthened the mapping, remote sensing and GIS capabilities of the UN High Commissioner for Refugees (UNHCR) to improve the support and assistance during humanitarian crisis. He then became a strong promoter of open source data and software as key elements to inter-agency coordination. He joined the UN Office for Outer Space Affairs (UNOOSA) to supervise the United Nations Platform for Space-based Information for Disaster Management and Emergency Response (UN-SPIDER). UN-SPIDER provides technical advisory support to Member States to assess and consolidate their capabilities in disaster risk management and emergency response, through improved knowledge management and an inclusive approach, bridging all communities and actors. Mr. St-Pierre lives in Vienna, UNOOSA HQ, with his family; he works in English, French and Spanish.
Keynote Speakers' List