Humaid Rashed Al Shamsi, Deputy Secretary-General for International Aid Affairs, Emirates Red Crescent (ERC)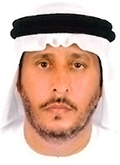 BIO
Humaid Rashed Al Shamsi, Deputy Secretary-General for International Aid Affairs, ERC, an international Certified Trainer for the Sphere Project (Humanitarian Charter and Minimum Standards in Humanitarian Response) , and an international expert in the management of the camps.
He participated in many international conferences representing the ERC in more than 40 countries around the world to provide relief and assistance to the needy and destitute and in the emergency response to disasters and crises.
Certificate in project management, certificate in strategy, and certificate in humanitarian diplomacy.